Transformer DC Resistance Tester
Inductive DC Resistance Tester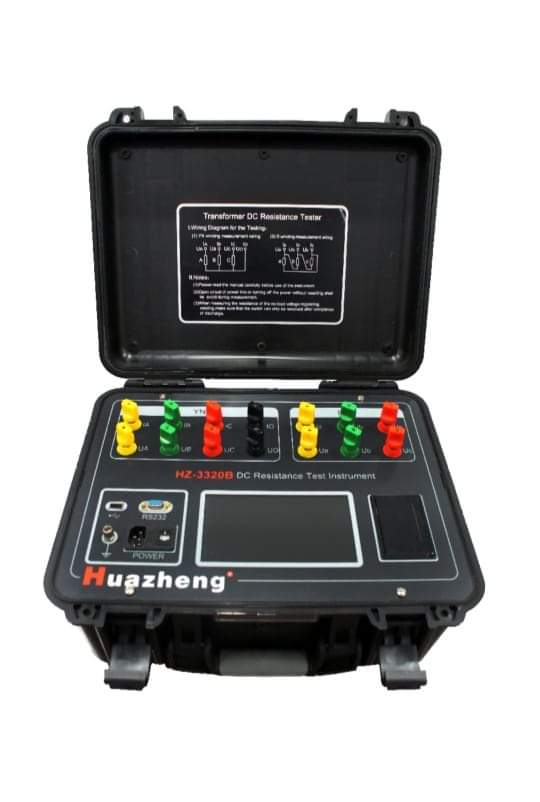 On large transformers with a five-leg core and low-voltage windings connected in delta, the tester can be used to test the HV and LV series excitation mode.

The magnetic augmented circuit of the windings can be automatically connected to quickly and accurately test the DC resistance of the low-voltage windings.

Three Phases Test function measures the three-phase DC resistance of the star-connected windings synchronously and calculates the three-phase unbalance rate automatically.

The phase by phase test function can also be used for phase by phase test on transformers with YN and D ( Y ) connections

The winding material selector can be set according to the winding material of the transformer, such as copper or aluminum, to distinguish the conversion temperature coefficient of different materials.

Equipped with transformer YN winding neutral point lead line resistance detection function

Fitted with complete protection circuit and sound discharge alarm, to inform the clear discharge indication and reduce the misoperation.

7 inch color touch screen display for real time data display.

RS232 comms port to transmit data onboard, 100 groups of data can be stored

Parameter settings : test windings, tapping positions, test phases, tested sample temperature and conversion temperature of the transformers.
Output current: Three-phase test: 10A+10A; 5A+5A; 1A+1A; 200mA+200mA; 20mA+20mA;
Single-phase test: 20A; 10A; 5A; 1A; 200mA; 20mA;
10A+10A: 1mΩ~0.6Ω

5A+5A: 2mΩ~1.2Ω 1A+1A: 10mΩ~6Ω

200mA+200mA: 100mΩ~30Ω

20mA+20mA: 10Ω~200Ω
20A: 0.5mΩ~1Ω

10A: 1mΩ~2Ω

5A: 2mΩ~4Ω

1A: 10mΩ~20Ω

200mA: 100mΩ~100Ω

20mA: 10Ω~20KΩ
Accuracy: ±(0.2%+2 digits)
Minimum resolution: 0.1μΩ
Operating temperature: -10 to 40°C
Ambient humidity: ≤80%RH, no condensation
Power supply: AC220V±10%, 50Hz±1Hz