Analyser's standard equipment supply and optional extras
Standard equipment supply :
maMoS gas analyser on a mounting plate

Power supply unit that converts mains supply 115VAC or 230VAC to 24VDC for maMoS with power plug

Gas dryer (options to choose from, application specific)

USB communication cable (5m)

8 analogue outputs (4x current, 4x voltage)

2 digital inputs for triggering maMoS behavior

7-pin connector for Tgas probe (thermocouple connection)

Software CD with PC programmes and user guides

4 wall plugs to attach mounting plate

condensate bag for water collection

2 maMoS igniton keys
MD2 gas dryer
An essential component the MD2 gas dryer – economy class Peltier cooler unit. - Ordering code: ZMAM-DRYER-MD2
MD3 gas dryer
An essential component for high moisture and low range sensors, high efficiency gas dryer, based on the Peltier cooling element. Equipped with 1 or 2 microfibre filters. Instead of the basic MD2 dryer. Ordering code: ZMA3-DRYER-MD3S – MD3 dryer with 1 filter; ZMA3-DRYER-MD3S2 – MD3 dryer with 2 filters
MD3 gas dryer with power supply
MD3 gas dryer with its own power supply module. Can work as a part of maMoS analyser (in split or twin-split configurations), or as a standalone device. Ordering code: M10-00001
Stationary gas probe
Gas probe designed specially for stationary purposes. Probe is available in different lengths and is equipped with suitable holder (different types are available).
Optionally it may also be equipped with:
Thermocouple for measurement of gas temperature.

Sintered stainless-steel filter (cleanable) - especially recommended when dealing with high c

oncentration of dust and soot.

"Blow-back" cleaning option - valve that allows to switch between measured gas and the compressed air inlet that is used for cleaning the sintered filter.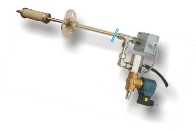 Heated hoses
The purpose of heated hose is to prevent any moisture that is present in the measured gas from condensing in an uncontrolled way, somewhere in the gas channel. Heated hoses warm up the gas to temperatures about the 130°C - 150°C to keep the water in vapour state. The hot gas reaches the analyser's gas dryer, where the vapour is condensed and water removed as quickly as possible. Such solution is especially recommended in measurements of SO2, NO2, Cl2, NH3 and other gases that quickly react with water and create different compounds, making the measurement of the "original" process gas much falsified.
Pitot tube
Pitot tube is used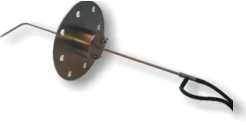 for indirect measurement of gas flow velocity (measurement with the analysers differential pressure sensor).
A few tube lengths are available. Pitot tube has 2m gas tubings to connect it with the analyser.
It may be provided with a suitable holder for stationary purposes. Ordering code: Z00-PITOT-5002 – 500mm tube with connecting hoses; Z00-PITOT-8002 – 800mm tube with connecting hoses
Heated filter
Heated filter is installed right after the gas probe. Best when it is paired with a heated hose, to prevent vapour from condensing. Ordering code: see heated filter section
USB communication cable
Standard USB type B cable that allows connection between a computer and maMoS analyser. Length-5m Ordering code: 563B0001B
Ethernet / WiFi communication interfaces
Optional interface allows communication with maMoS analyser and a LAN network either via cable or wirelessly with help of special WiFi adapter. Ordering code: ZMA3-ADAP-WIFI
Enclosures
IP 55 without climate control, with fan forced ventilation

IP 65 without climate control

IP 65 with climate control