A simpler version to the fully fledged 298, but at a more affordable price
Useful when one is only interested in the greatest shocks en route, not all shocks.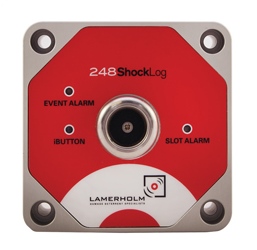 SHOCKLOG® 248
ShockWatch® ShockLog® 248 monitors and record impacts and environmental conditions experienced by any type of structure or equipment, whether it's in use, in transit, or in storage. The device alerts you whenever damage may have occurred so you can respond promptly. ShockLog impact recorders help deter mishandling by increasing accountability at every step of the journey.
The iButton® allows for easy access control during startup, shutdown and setup. A full journey report can be downloaded using the iButton while keeping the unit secure and tamper proof.
Records first plus the 14 most severe events (detailed curves)
Delivers notification of up to 128 events (event summary log)
Up to 262,000 time slots
Features:
Record max peaks X, Y, and Z and internal temperature

Record impact events

Optional temperature/humidity sensor can be built into unit

Field-proven triaxel piezoelectric accelerometer technology

iButton® and USB data transfer options

Self-contained unit design, free of cables and wires

User-definable alarm levels

LED lights for visual notification of alarms and warnings

Programmable wake-up values for maximizing battery life

IP67-rated, RF-screened

Show direction of impact—X, Y, and Z