Textile Moisture Meter
Model TMT 425
For the determination of moisture in textiles, natural materials, synthetics and yarn.
Features :
Wide measuring range of 0.3% to 26% moisture content
Factory-supplied calibration curves included; Wool, Cotton, Rayon, Flax yarn, Jute yarn, Hemp yarn, Acetate, Nylon, Polyacrylic, Polyester (Reference scale)

Many stored curves for determining humidity in textile, natural and synthetic fabrics and yarns.

Automatically calculates average measurement values

Automatic temperature compensation

Memory Enables quality control and documentation on location

Menu languages: German, English, French, Italian, Spanish and Russian

No conversion tables needed!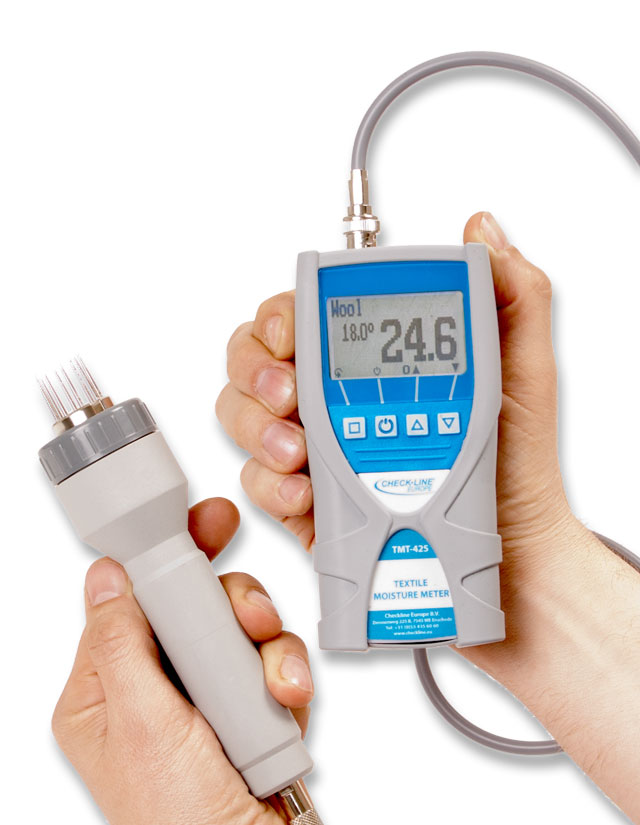 Built-In Factory Calibration Curves
| Textile Type | Measuring Range |
| --- | --- |
| Wool | 13% - 26% |
| Cotton | 1.5% - 13% |
| Rayon | 4% - 26% |
| Flax Yarn | 5.5% - 15% |
| Jute Yarn | 8% - 24% |
| Hemp Yarn | 5% - 17% |
| Acetate | 3.5% - 13% |
| Nylon | 1.5% - 6.5% |
| Polyacrylic | 0.2% - 3% |
| Polyester | 0.5% - 4% |
| Digit (Reference Scale) | 0 - 100 units (Reference Scale) |
Electrodes
Standard Electrodes & Accessories
205

Needle electrode for yarns, cross-wound bobbins and hanks (needle length 25 mm)
50205M

207

Needle electrode for yarns, cross-wound bobbins and hanks (needle length 100 mm)
50207M

200-TEM1

1 meter length cable to connect electrode to indicator
50200M

204

Electrode holder. Fixture to secure interchangeable electrodes with connection for 200-TEM1 cable.
50204M

Optional Electrodes
202

For raw cotton, with a friction clutch permitting adjustment of a constant pressure. For measuring bulk goods such as cotton etc.The material is poured into the cup and compressed with the pad of the compression screw. As the material is compressed, it is crushed on the crusher cone to ensure accurate readings. The electrode connects to the moisture meter direct, without the use of the universal measuring cable.
Requires use of additional cable, P/N: 50400CM

206

For measuring yarns, cross-wound bobbins and hanks, needle length 45 mm, weight 45 g
50206M

208

For measuring harder materials e. g. felt, needle length 17 mm, weight 40 g
50208M

209

Stab electrode for textiles in sacks and rolls (needle length 325 mm)
50209M

209 BSM

Cotton electrode, especially for measuring cotton and similar products in sacks or pressed bales
piercing point 75 mm, insulated shank 175 mm (total length app. 250 mm)
50209BSM

210

Knife electrode for rolls or bales of textile fabric (knife length 110 mm)
50210M


211

Roller electrode for running webs of textiles (roller 27 mm Ø)
50211M
212

Continuous run electrode for yarn hanks and single filaments (roller 16 mm Ø)
50212M
213

Surface electrode for fabrics (surface 23 mm Ø)
50213M
299

Calibration electrode with a fixed calibration value
50299M