TVOC 2 fixed PID Detector
For continuous VOC monitoring
TVOC 2 is a fixed continuous PID detector for the detection and measurement of total volatile organic compounds (TVOCs). Its photoionisation detection (PID) sensor capabilities utilise advanced patented Fence Electrode Technology with increased resistance to humidity and contamination.
A robust fixed PID detector, TVOC 2 has a selectable detection range of 0 – 10 ppm, 0 – 100 ppm or 0 – 1000 ppm and is ideal for use in manufacturing and process industries where VOCs are typically present.
With a 4-20 mA analogue output, TVOC 2 can be simply integrated into a Distributed Control System (DCS) to provide warnings and enable control of high VOC levels in the working environment.
The instrument's ATEX approvals enable a 3 wire TVOC system to be used in Zone 2 hazardous areas without safety barriers, whilst its ATEX and IECEx approvals allow TVOC 2 to be used in Zone 1 hazardous areas with safety barriers.
Simple to install service and calibrate, TVOC 2 requires no hot work permit and the PID sensor is accessible and changeable in a matter of seconds.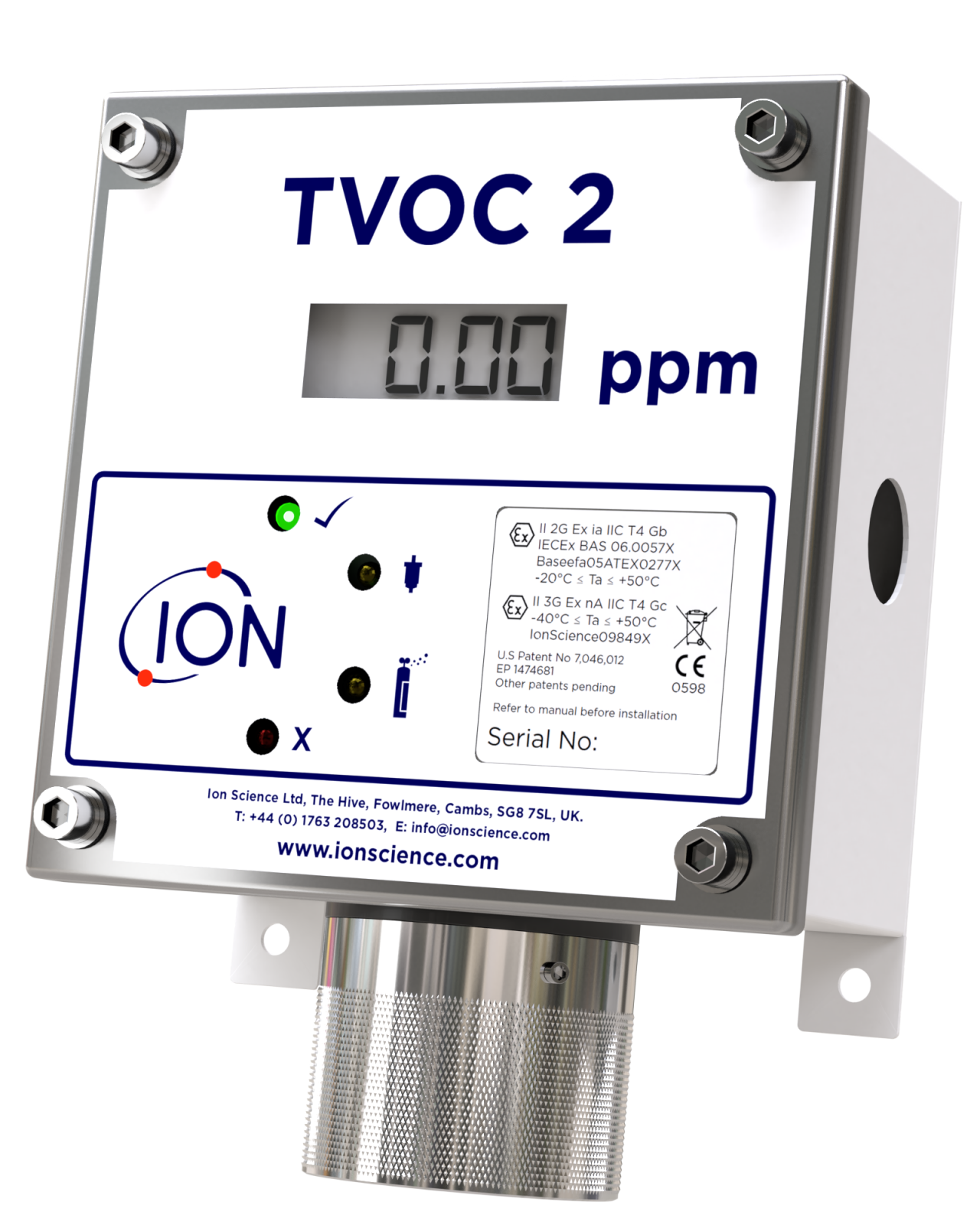 Best available photoionisation (PID) detection
PID independently verified as best performing on the market

Range: 0 to 10, 0 to 100 or 0 to 1000 ppm from just one instrument

In-built humidity resistance with no need to compensate

Anti-contamination design for extended field operation

Variable duty cycle prolongs run time

Reliable diffusive monitoring – no pump required
Safety
Accurate results over all environmental conditions

Rugged and robust design withstands harsh environments

Large LCD display for clear readings

ATEX and IECEx approved
Ease of use
Simple to use – minimal training required

Easy access PID sensor for fast, simple servicing

Simple calibration procedure

Easily integrated into a control system
Low-cost operation
Inexpensive consumables and parts

Two-year warranty when instrument registered online
Technical Specification

Value/Information

Hazardous Area Safety Approvals

II 2G Ex ia IIC T4 Gb (-20°C ≤ Ta ≤ +50°C)

II 3G Ex nA IIC T4 (-40°C ≤ Ta ≤ +50°C)

Ingress Protection Rating

Designed to IP65
Sensor Ingress Protection IP54

Power

Power: 5-28 VDC Max 130 mA

Output: 4-20mA requires an 8-35 VDC power supply
For IS requirements 8-30 VDC power supply

Range

0 to 10 ppm, 0 to 100 ppm, 0 to 1000 ppm (user selectable)

Sampling

Diffusion (can be pumped if required using an adaptor)

Display

7 segment, 4 digit LCD, 4 colour LED's

Response

Sensor – T90 <5 sec

Accuracy

0 to 100 ppm: ± 5% at calibration point.




100 to 1000 ppm: ± 10% at calibration point.

Calibration

Accessed via magnetic switch

100 ppm Isobutylene via calibration kit accessory

Temperature

Operating: -20 to 50°C, (-4 to 122°F)

Humidity: 0-95% RH (non-condensing)

Weight & dimensions

Instrument: 1.4 kg (3.1 lb)

Packed: 1.6 kg (3.5 lb)

Dimensions: 188 x 126 x 78 mm (7.4 x 4.9 x 3″)

4-20 mA alarm levels

Selectable 2 mA & 3.5 mA options

Brochure
See our Portable VOC Detectors
FALCO fixed VOC detector
Designed with 'typhoon technology' for extreme weather and condensing atmospheres!
Falco is the latest generation of fixed VOC detectors that continuously detect a wide range of volatile organic compounds (VOCs) using patented photoionisation detection (PID) technology.
Unique to this fixed VOC detector is its revolutionary 'typhoon technology' safeguarding the PID sensor from condensing moisture for added reliability in severe weather conditions. In addition, the PID sensor incorporates patented Fence Electrode Technology, which virtually removes the effects of airborne humidity and protects from contamination.
The Falco VOC detector gives you cutting-edge performance; reliability, accuracy and results you can trust so you can be sure workforce and plant receive on-going maximum protection. With its humidity resistance and anti-contamination design drift is minimised and run-time extended, saving both time and cost to your business.
Offering the ultimate in safety, Falco eliminates false readings found with other competing PID technology. Its multi-coloured LED status display can be seen from a distance of twenty metres in sunlight ensuring you are clearly alerted to hazards present.
Falco has an externally located Intrinsically Safe sensor for quick and easy servicing without the need for a hot work permit. Dual certification allows Falco to be serviced and calibrated in a hazardous environment without having to remove power.
Simple to operate the Falco fixed VOC detector has an intuitive user interface. It has five magnetic switches with LED confirmation, a high contrast OLED screen and graphical interface ensuring installation and servicing are both quick and easy.
RS485 (Modbus®), 4-20 mA and Relay outputs are standard for all models. The Relay outputs are configurable for either high and low alarms, fault conditions or test cycle synchronisation.
The Falco fixed VOC detector offers the ultimate in flexibility and can be purchased as one of four detection ranges in either a pumped or diffused variant. With a diffused model, servicing costs are kept to a minimum with no pump to maintain.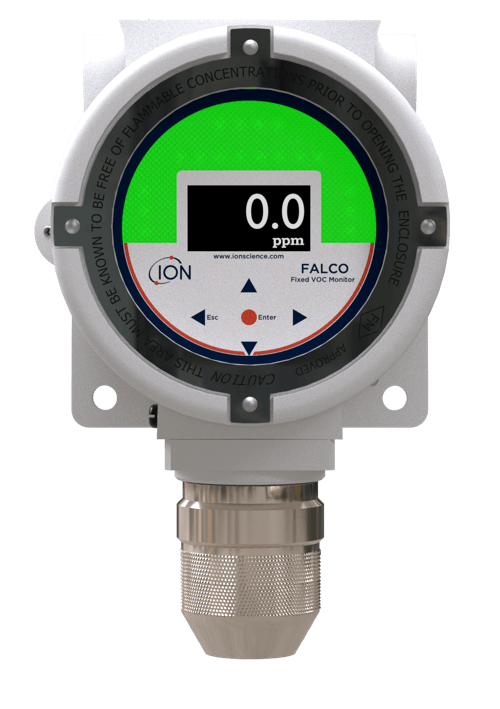 Ultimate performance
The only VOC detector specifically designed for extreme weather

'Typhoon technology' stops condensation forming within the PID

Cutting-edge sensor performance minimises drift & downtime
Ultimate safety
Eliminates false readings found with competing PID technology

Multi-coloured status display can be seen from 20 metres in sunlight

Fitted with long-life lamp for two years continuous use

Ex d approved
Ultimate flexibility
Pumped or diffused models available

Pumped unit ideal for difficult to access locations

Diffused model reduces servicing costs

Four detection ranges available

Selectable response factor for varying VOC selection
Technical Specification

Value/Information

Sensor

Photoionisation with 10.6 eV lamp

Detection ranges and sensitivity

10.0 ppm* 0.001 ppm




50.0 ppm* 0.01 ppm




1000 ppm* 0.1 ppm




3000 ppm* 1 ppm

Detection time (T90)

<30 seconds (diffused)**

User interface

Display: OLED high contrast white on black: 128 (w) x 64 (h) pixels Screen size: 35 mm (w) x 17.5 mm (h)




5 magnetic switches with LED confirmation (up, down, left, right & enter). Magnetic actuator supplied.

Status indicator

Bright visible status indicator: RED, AMBER, GREEN

Certification

II 2G Ex d ib IIC T4 Gb ISO9001:2015

Environmental specification

Diffused


Op Temp: -40oC to +50oC
Storage Temp: -40oC to +60oC

Pumped


Op Temp: -20oC to +50oC
Storage Temp: -20oC to +60oC

0-100% RH and condensing humidity

Mechanical interface

2 x cable entry points with 3/4" NPT threads (left and right)




2 x 3/4" NPT to M20 Stainless steel (supplied)

Dimensions

Without pump: 200 (h) x 190 (w) x 125 (d) mm




With pump: 290 (h) x 190 (w) x 125 (d) mm

Mounting points

2 x M8

Input power

Working voltage: 12 to 40 Vdc Max. power: 7 watts

Outputs

4 to 20 mA (active and passive)




RS485 supports Modbus® protocol




Relay x 2 SPST (60 Vdc 2A) – configurable
*
Based on Isobutylene gas
** When set to continuous measurement
Modbus® is a registered trademark of Schneider Electric

Brochure