Fever Screening and Industrial Thermal Scanners and Cameras
Temperature Screening Thermal Camera
R 24 500.00 Excl.VAT Better prices for quantities. Shipments leaving on the 25th of April, order in advance to secure.
Measurement range : 20- 50°C

Accuracy : +/- 0.5°C

Detection range : 1 meter
Industrial Thermal Scanners and Cameras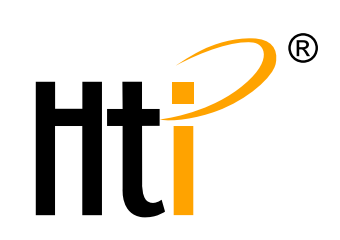 HT-18
Thermal Imager without analysis software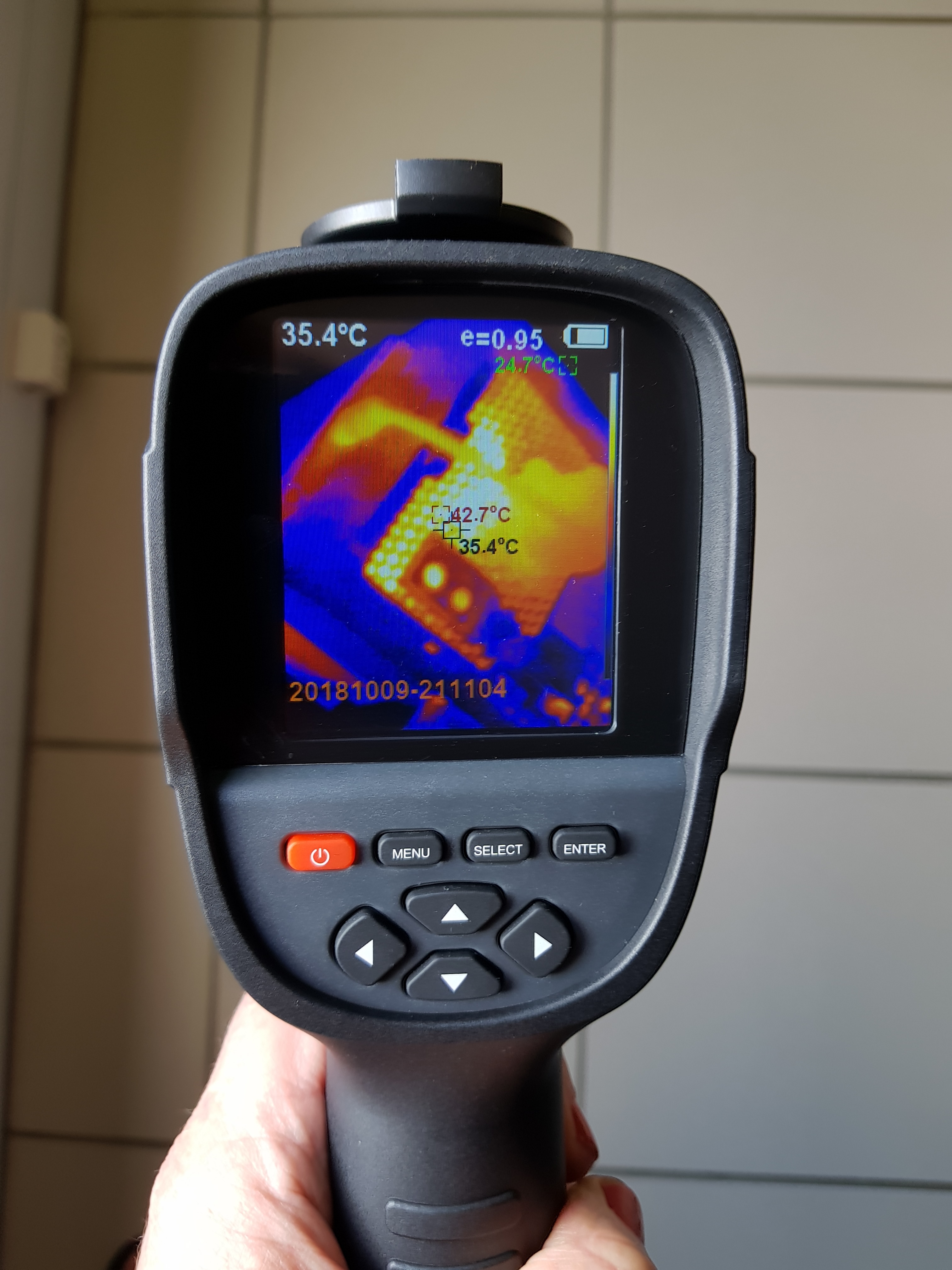 Saved images retain the centre cross hair, maximum cross and minimum cross hair temperatures, the emissivity used, battery status and time.
Display : 3.2" Colour Display

Resolution : 220 x 160 pixels

Spectral range : 8-14µm

FOV : 35° x 26°

Focal length : 500mm

Temperature range : -20 to 300°C

Thermal sensitivity : 0.07°C

Measuring accuracy : +/-2%

Image frequency : 9 Hz

Emissivity : 0.1 to 1.0 adjustable

Palettes : rainbow, black and white, white and black

Image presentation : full infrared, full digital and fusion of the two in degrees of transparency

Screen display : centre cross hair temperature, hottest point cross hair, coldest point cross hair, emissivity setting, battery status and time

Focus : fixed

Image storage : on board 3GB

File format : JPG

Software : none

Power supply : rechargeable Li-Ion

Kit includes : handheld infrared imager, carry case, battery charger, USB cable

Brochure

B Series: Tool-like Thermographic IR Camera
Classic design, easy operation all models : - 20 to 350 °C temperature range
B160V 160 x 120 pixels, 5mm, F1.2 lens, focus free
B256V 256 x 192 pixels, 7mm, F1.1 lens, focus free
B320V 320 x 240 pixels, 7mm, F1.1 lens, focus free
Applications:Electrical and mechanical inspection, building integrity and industrial process
The B series is an efficient, budget-friendly and completely equipped infrared camera. One handed, user friendly operation makes it an ideal tool for troubleshooting electrical installations, mechanical components, buildings, process equipment, HVAC/R equipment etc
3.5" large screen with no image cropping, high brightness screen to show image with no detailed information lost even outdoor or in bright light

User friendly, easy to use without training

Four image presentations full infrared, full digital, picture in picture (PIP) and MIF
Rugged and compact design, metal internal structure

Standard Micro USB interface for data transmission and charging

Removable Large capacity Li-ion battery, 4 hour working time

Optional Wi-Fi connection with notebook or mobile

Standard accessories: Thermal camera/ USB power supply with multi plugs/ USB cable/ Adapter/ User's manual/ Product CD/ SD card/ Wrist strap

Optional accessories: Camera carring pouch/ Battery charger/ Li-ion Battery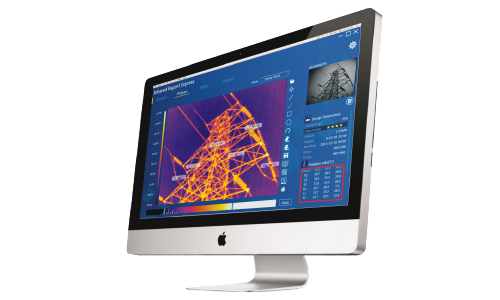 IrAnalyzer on PC terminal
Capturing images with an infrared camera is just the first step of an infrared inspection. Guide IR Analyser software enables analysis of images and videos, processing of photos by adding relevent markers and finally creating a professional report in Word or PDF.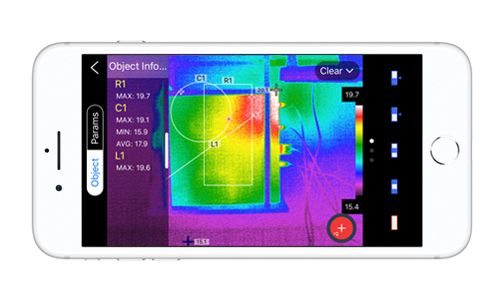 App on mobile
You can import images or videos to the mobile devices, process and analyze on them to get an immediate report, or share them.

Live video transfer wirelessly

Camera operation control remotely

Powerful analysis and report generation

Immediate inspection results sharing

Brochure
D Series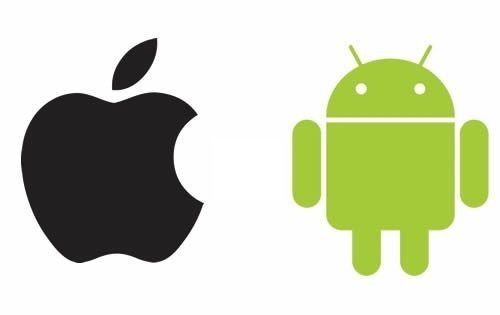 iOS / ANDROID APP - Search for "Thermography" in Apple or Google Play Store to download
Model D160
160 x 120 pixels

7mm lens

50/60Hz
Model D400
384 x 288 pixels

19mm lens

50/60Hz
Features :
4" high light, brightness adjustable, touch screen

Built in light for clear digital photos in low light conditions

MIF technology

16G SD card

Wi Fi share, allows immediate image transfer as required
Specifications :
-20 to 650°C (up to 1500°C optional)

Camera takes : digital image, infrared image, picture in picture and MIF ("see through" function allowing details on equipment to be seen through the thermal image)

0.5m minimum focus distance

60 seconds of voice recording per photo

5MP digital camera

Laser pointer

4 hour battery life

2m drop tested

Use with APP or download into software provided on PC

Analyse images in the field with onboard tools, or on PC once downloaded -

5 spots, 2 lines, 5 areas, delta T and isotherm
Kits include :
D series camera with rechargeable Li-ion battery, hand strap, USB cable, HDMI cable, 16G TF card, CD, accessory list card, quick user guide, user manual, certificate of calibration.

Brochure
C Series
C Series High Resolution Infrared Camera
Model C 400 - 25
400 x 300 pixels

50/60Hz

25mm lens

Auto focus

Saves infrared photos, digital photos, picture in picture, MIF and 60 seconds of voice recording at the press of one button.

5 spot tools

5 area tools

Dew point

Sketch on image

8 palettes

5" LCD Touch screen or joystick operation

Windows style menu

WiFi connectivity

Digital compass, GPS, light sensor

-20 to 800°C or 2000°C (optional)
Model C 640 - 25
640 X 480 pixels

8 spot tools

8 area tools

-20 to 800°C or 2000°C (optional)

Remaining specifications as C 400 - 25
Model C 640P - 25
640 X 480 pixels

50Hz/60Hz

10 spot tools

10 area tools

Blue tooth

-20 to 800°C or 2000°C (optional)

Remaining specifications as C 400 - 25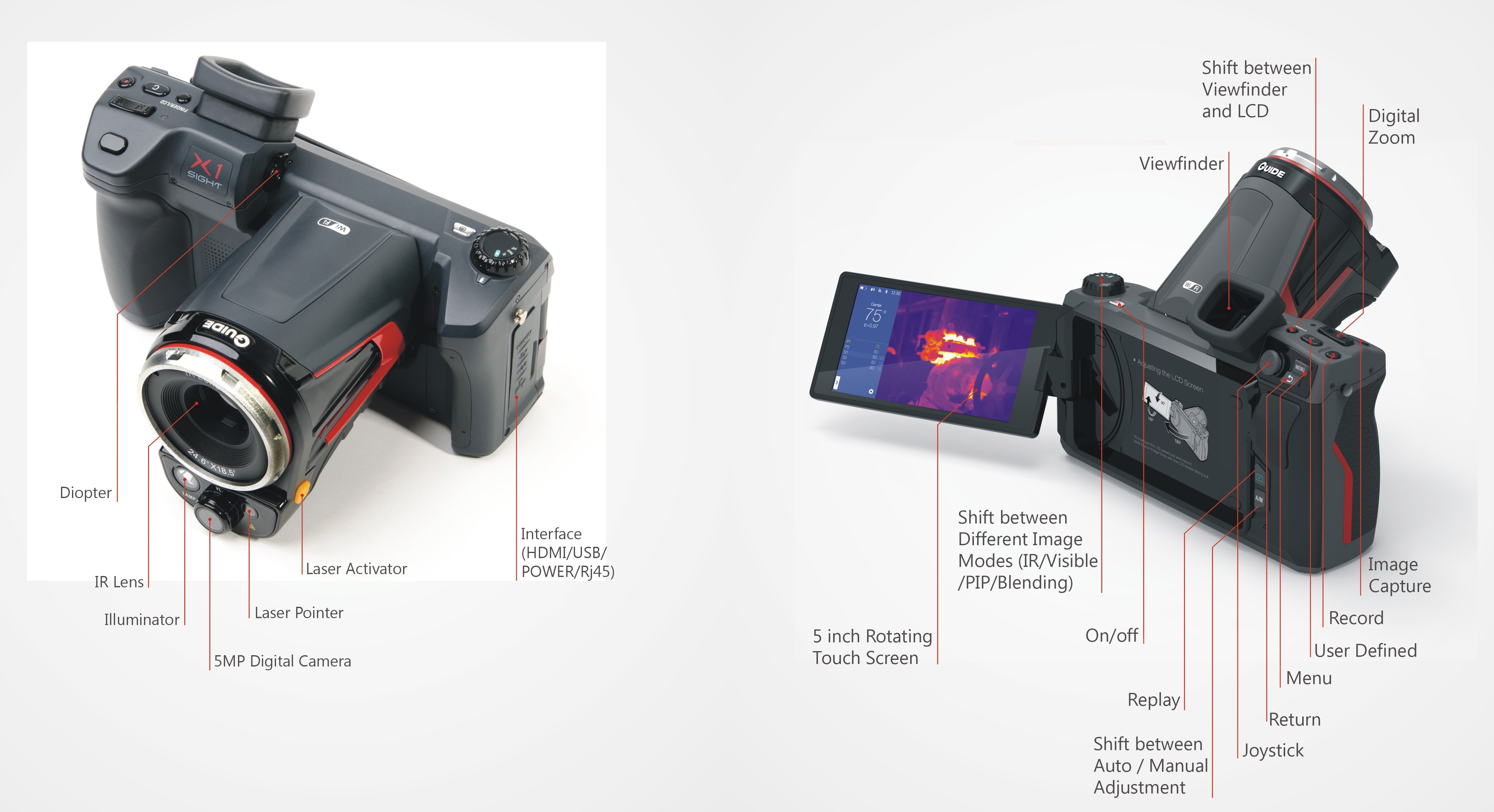 Surveys
Impact Instruments performs the following surveys on behalf of customers at their premises :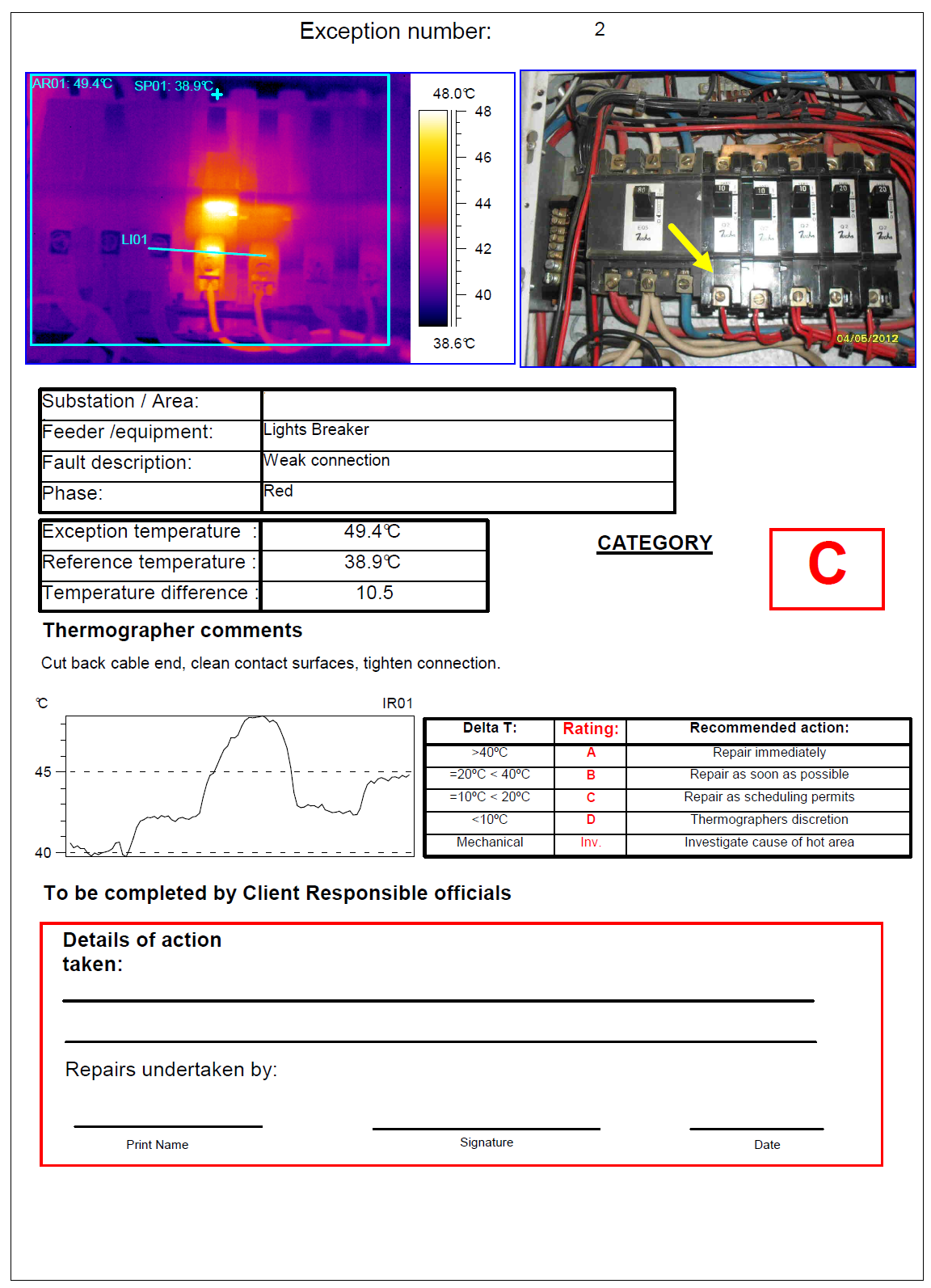 Infrared Scanning Service
Infrared scanning is performed by a qualified thermographer with at least an ITC Level 1 certification and two years experience. All infrared
cameras are calibrated on an annual basis. Surveys include the thermographer taking both digital and thermal photos at the client's premises,
downloading of images into software, matching of areas, section, measured points, etc. with photos, analysis, recommendation and grading of fault.
Production of hard copy report, in format required (hard copy only, or hard copy and cd).
If the inspections are for electrical installations, it is recommended to do the inspection under load conditions, in order to get an accurate indication
of faults, and the presence of your electrician to facilitate the opening and closing of panels is required. On the day of inspection, it would be an
advantage if the panels to be inspected could be identified and opened and ready for inspection, prior to the arrival of the auditor.