Vibration Meters For Spot Checking
Portable Vibration Checkers Without Data Logging
Vibration Pen
Model WT63B
Piezeoelectric ceramic accelerometer sensor
Velocity : 0.1-199.9mm/sec, Displacement : 0.001-1.999mm, Acceleration : 0.1-199.9m/s2
Accuracy : Velocity : 0.01 – 0.02mm, ≤+/-10% ≥0.02mm ≤+/-5%
Displacement : 0 – 2mm, ≤+/-10% ≥2.0mm ≤+/-5%
Acceleration : 0.01 – 0.02mm, ≤+/-10% ≥0.02mm ≤+/-5%
Frequency range : 1KHz-15KHz (High), 20Hz- 1KHz (Low)
Display : Full colour
Data Log : Save into 7 groups
Machine class option with colour coded vibration intensity in accordance with (ISO10816- 1)
Built in flashlight
Screen rotation

Brochure
Machinery Mate Handheld Vibration Meter
MAC 200
The MAC200 is a simple to use vibration monitoring and analysis meter with a built-in sensor. Displays overall vibration velocity, 3 frequency bands based on running speed and 200/800 line spectrum. IP67 rated – rugged, waterproof casing for harsh plant environments.
Features
Built-in ISO alarms

Easily identify bearing problems with BDU readings (Bearing Damage Units)

200 and 800 line FFT spectrum

Ruggedized IP67 case

Full color OLED display

Brochure
Vibration Meter
Model KV 3000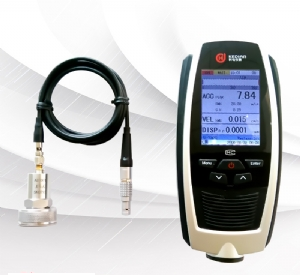 Single Axis Piezoelectric Accelerometer

FFT list displays 7 highest frequencies to assist with fault diagnosis

Acceleration (Peak): 0.1~392.0 m/s² (10Hz~10KHz)

Velocity (RMS): 0.01~80.00 cm/sec (10Hz~1000Hz)

Displacement (P-P): 0.001~10.000 mm (10Hz~500Hz)

Also shows Acceleration RMS and CF (Crest Factor) values

Display: 2.4" Colour TFT backlit LCD 320×240 pixels

Memory: 99 groups (50 data and one spectrum list per group)

Alarm warning limit setting with on screen bargraph indicator

Power: 2 x AA size batteries (Alkaline or rechargeable)

Optional printer available to print memory data

c/w carry case, accelerometer, cable, magnet and alkaline batteries

Brochure
Balmac Inc. ceased production in December 2020.