MoniLog Micro Shock Detector Plus
With NFC (Near Field Communication) Wireless Interface via Android Smartphone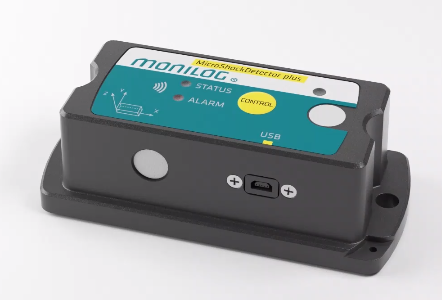 Can be used in conjunction with Smart Phone and Free App, to download data en route and send reports by email.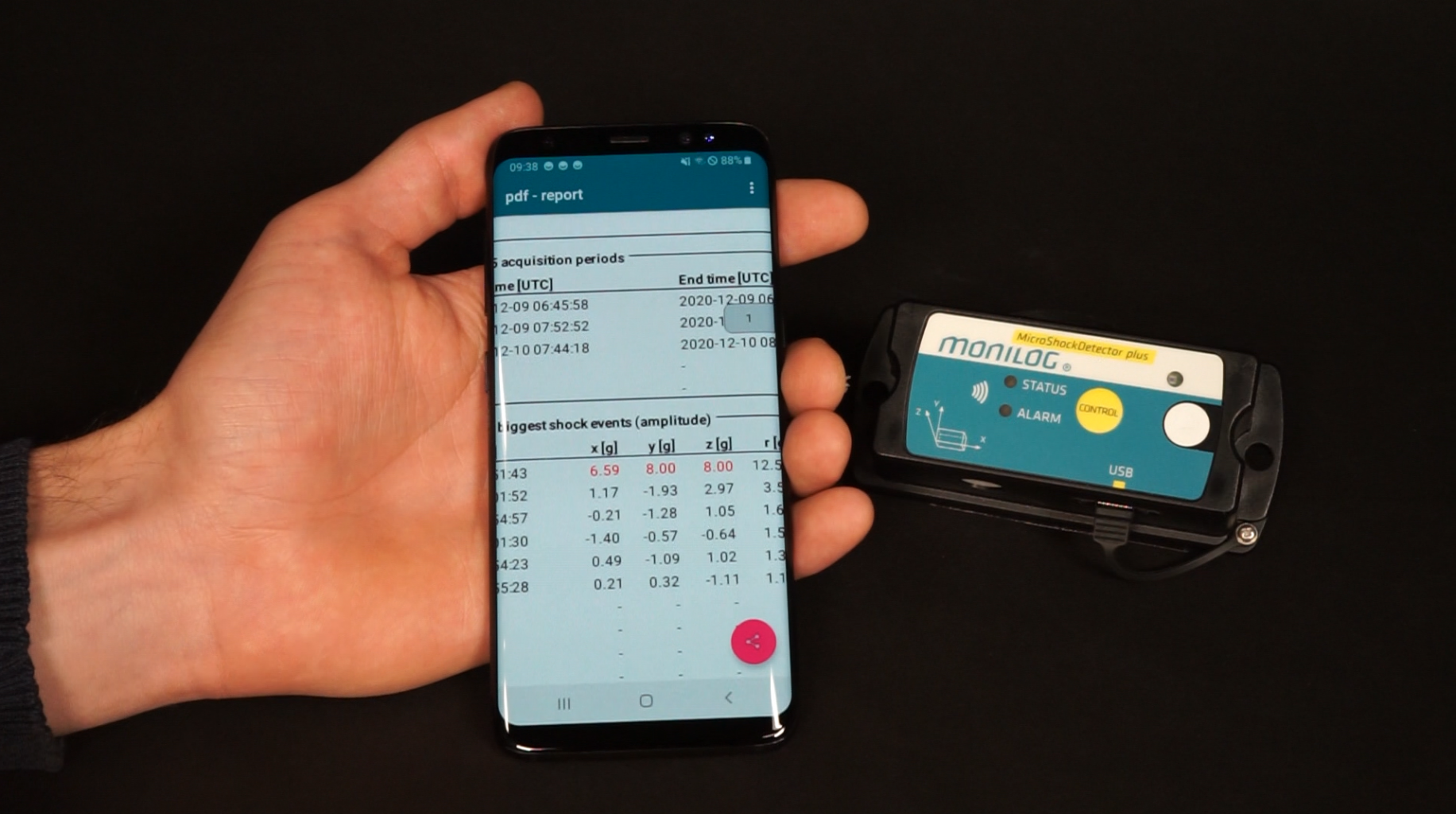 | | | | | |
| --- | --- | --- | --- | --- |
| SHOCK | TEMPERATURE | HUMIDITY | PRESSURE | LIGHT INCIDENT |
FEATURES :
Registers the 200 largest shock events in the X, Y, Z direction

Saves up to 10 curve progressions of the largest shocks
Intelligent signal fi ltering and evaluation
Indicates limit value overruns with alarm LED
Continuous recording of temperature, humidity, air pressure, light
Intuitive operation, extremely long and independent operating time
Communication via USB and NFC
Easy configuration and evaluation with license-free PC software
Status report can be read out via NFC with smartphone and free app
Confi gurable recording time over start-stop time
Easy mounting with adhesive pad, screws or magnetic feet
PRODUCT DESCRIPTION:
High-sensitivity devices, e.g. large, superconducting magnets in medical technology, need a safe and demonstrable protection during transport or during storage.

The compact MONILOG® MicroShockDetector plus provides the best services.

It is smaller than a smartphone and weighs only 180 grams.

The measuring device reliably stores all data on shocks of every dimension, assigns them to acceleration classes, provides curve progressions and reports alarms as soon as limit values are exceeded.

In addition, temperature, humidity, air pressure and light are monitored.

The switch-on time of the MicroShockDetector plus is easy to configure.

All data can be read out via the USB port, transferred to a PC and evaluated.

There is also an option to read out the status report with a smartphone via NFC.

The free app sends the read status report as a PDF file by e-mail.

The device is quickly installed and dismantled with adhesive pads, screws or supplied magnetic holding feet.

Brochure